Gfps Homework Hotline For Elementary
There is no better time to be a kid in Florida than at this exact moment.
Elementary school students in31Marion County, Florida schools are free of homework for good after their superintendent issued a county-wide "no homework" mandate.
According to Chicago Tribune, superintendent Heidi Maier made the decision to cut traditional homework from the curriculum based on "solid research" stating that homework in elementary school doesn't effect academic achievement and has only a slight effect on older students in terms of improving academic performance.
But not so fast — these kids aren't getting off that easy. In lieu of traditional homework, students are expected to read for 20 minutes every night. Even though it is something, it's way better than sitting down and completing math worksheets or book reports for hours on end. To back up the switch to nightly reading, Maier cited the work of Richard Allington, an expert on reading acquisition. Allington said, "The quality of homework assigned is so poor that simply getting kids to read replacing homework with self-selected reading was a more powerful alternative."
Maier said students are allowed to pick their own reading material and will get help from teachers and librarians. Resources will be made available for children who do not have an adult at home to help them read. 
"We need to make our message clear and explain why this is beneficial," Maier said of the decision. The feedback on the change has been both positive and negative, and town halls will be held soon for more skeptical parents.
Although middle and high school students will still get homework each night, these elementary school students are in the clear. Enjoy it now, kids — you'll never get this kind of break again. 
Here you'll find instances of the GFPS Foundation featured in the local media outlets.
Great Falls husband surprises wife with elementary school library for her birthday
Sarah Dettmer, sdettmer@greatfallstribune.com
(Photo: TRIBUNE PHOTO/JULIA MOSS)
Linda Caricaburu is an advocate for Great Falls Public Schools.
Now, there will be a physical representation of her love and support for the schools in the new Giant Springs Elementary School library and media center.
Giant Springs Elementary is under construction and will be completed in time for the 2017-2018 school year. Roosevelt students will be moved to the new school.
In honor of Caricaburu's 60th birthday, her husband Brad Talcott of James Talcott Construction donated $100,000 to the school for library furnishings. The donation includes everything from shelving, chairs and desks to computers.
"It was a surprise birthday present," Caricaburu said. "On the morning of my birthday, Dave Crum from the (Great Falls Public Schools) Foundation, board members, Tammy Lacey and a few cabinet members were at my front door with balloons. They broke the news."
Talcott said the gift was an obvious choice for his wife for her dedication to the schools, for the students of Roosevelt Elementary and for their family's legacy within the district. Talcott said at least a dozen members of his family attended Roosevelt and his own daughters are alumni.
"We just feel that it's the oldest school in the district so the students there are inherently at a disadvantage in some ways," Talcott said. "It's their turn to have something special—the opportunity to learn at a different level."
Roosevelt also 62 percent free and reduced lunch.
"It's not the most privileged neighborhood," Caricaburu said. "A lot of those students don't have much."
Rhonda Zobrak, the principal at Roosevelt Elementary, said she is thankful for the gift and knows it will be used for generations to come.
Caricaburu and Talcott were present at the regular meeting of the school board on Nov. 13 to speak about the gift. Caricaburu encouraged everyone to consider giving donations on behalf of their loved ones no matter how large or small the sum.
During her time with the Great Falls Public Schools Foundation, Caricaburu said she saw how gifts large and small can directly help classrooms.
"What a great way to honor anyone," Caricaburu said.
Discovery Grant brings Mountain View library into 21st century
Sarah Dettmer, sdettmer@greatfallstribune.com
The library and media center at Mountain View Elementary has graduated to this century.Thanks to the collaborative work of five teachers and a $14,788 grant from the Great Falls Public Schools Foundation, students now have a modern place to learn and study.
"It used to look like that avocado green, golden harvest, Brady Bunch decor," 
Mountain View Elementary's library was upgraded thanks to a $15,000 grant awarded to five teachers. (Photo: Tribune Photo/Sarah Dettmer)
Lainie Warneke, Mountain View gifted education teacher, said. "Now it's more comfortable. It's a hub. It's the center of the school."
Warneke, along with teachers Patricia Korman, Rachel O'Neill, Librarian Jennifer Crisman and school psychologist Carly Nason, each applied for the maximum $3,000 grant, and then pooled their funds to improve the library.
The funds were used to upgrade to the latest interactive technologies.
Warneke said creating a 21st-century learning center for students is invaluable.
"Kids do their homework on computers and turn in their homework online," Warneke said. "Students today have literacy in technology. It's second-nature for them. These students will be creating the new technologies."
The library upgrade included a touch screen monitor that was installed last week. (Photo: Tribune Photo/Sarah Dettmer)
The importance of creating a comfortable and inviting learning hub was also paramount.
The remaining funds were used to repaint the yellow walls with crisp turquoise, white and gray paint and to buy new tables and chairs.
"All of the chairs used to be mismatched, and there were a bunch of bookshelves that were mismatched," sixth-grader Adrienn Jasumback said. "It was very bland. There wasn't much color. Now, I like it a lot because blue is one of my favorite colors, and I like the chairs a lot. They're comfortable. It's cool when we do get to spend time in here."
The school's PTA funded the bookshelf project. 
The Mountain View library is in the interior of the building and doesn't have any windows. Students will be working with Art Teacher Kristi Wasson to bring the outside in with an aspen tree mural.
In total, the foundation awarded $93,188 in grants. There were 33 individual projects awarded a total of $63,400 and three group projects awarded a total of $29,788.
Discovery Grants are intended to encourage innovation and creativity within the district by providing students with the opportunity to expand their learning environment and experiences. Teachers can apply for funding ranging from $500 to $3,000.
(From the left) Sixth-graders Adrienn Jasumback, Sydney Graf, Neva Clark, Andrew Schoenen, Kyle Scott and Paige Mackenstadt said the new library is a big improvement. (Photo: Tribune Photo/Sarah Dettmer)
Since the Foundation began awarding Discovery Grants in 2011, 182 projects have been funded for a total of $400,150. 
Discovery Grant recipients 2017
Preschool
It's MY Book!!; Robin Western; $3,000
Preschool Conscious Discipline; Jennifer Lambert; $3,000
Elementary
6th Grade Winter Ecology Field Investigation (Year 2); Cramer Caouette; District-wide $3,000
21st Century Media Center; Jennifer Crisman, Patricia Korman, Carly Nason, Rachel O'Neill, Lainie Warneke; Mountain View; $14,788
Bullying Prevention Library; Tiffany Sweeney; Mountain View; $1,000
Chromebooks and Google Classroom in Sunnyside Elementary Library; Cathy Allen; Sunnyside; $3,000
Classroom Moves; Alissa Kline; Roosevelt; $1,500
Connecting Families, Weaving Memories; Laurie Matteson; Lincoln; $1,968.50
Discover, Interact, Play and Learn; Dana Freshly; West; $2,000
Dry Erase Boards; Leslie Kynett; Lincoln; $1,097.84
Flexible Seating; Kim Ray; Loy; $3,000
Floor No More Part 2; Kelsey Lowry; West; $1,500
Keep Calm and be Successful!; Nikki Ritland; Riverview; $900
NewsELA; Pamela Mackiel; Roosevelt; $2,700
Oral Health program - Grades K-5; Ruth Uecker; District-wide; $1,800
Parkour Curriculum; David Lietz; Loy; $1,600
Play to Learn; Learn to Play; Alex Kosanda; Longfellow; $1,640.96
Sensory Enrichment and Exploration; Stacey Dobbyn; Loy; $1,500
Trials for Increased Academic Success; Tiffani Fox-Sunchild; Lewis and Clark; $502.66
Tumblebooks; Miwa Combs; Lincoln; $795
Middle School
Dynamo Gates of Learning; Leesa Halcro; East; $3,000
IXL for Literacy; Melissa VanSickle; North; $3,000
Technology Integration and Enhancement; Bobbie Dart, Nick Herd, Zack Ringler; East; $9,000
High School
Auto Fuel Mileage Project; Shawn Kohut; CMR; $3,000
Bison Piano Project; Patrick Ryan, Jordan Spicher; GFH; $6,000
Fieldhouse Weight Room; Chris Napierala; GFH; $1,500
Film Renaissance; Theresa Jacobs; CMR; $450
Microphones for language learners; Lisa Frank; GFH; $745
Native American Bison Experience; Drew Uecker; Paris Gibson Education Center; $2,800
Raspberry Pi School 2.0; Stacy Dolderer; GFH; $2,000
Updating graphing technology for the math classroom; Brad Packer; CMR; $3,000
Young Masters Art Show; Tess Jacobs; CMR; $1,000
Not grade specific
GFPS Beginning Instrumental Camp; Dusty Molyneaux; District-wide; $1,500
littleBits Project Based Learning; Jeff Rieger; Extended Curriculum; District-wide; $2,399.90
Summer Read 6! 2017; Carol Paul; District-wide; $2,500
Great Falls Public Schools Foundation awarded with $10,000 donation
Sarah Dettmer, sdettmer@greatfallstribune.comPublished 3:24 p.m. MT Sept. 8, 2017
Students in need have found a safe haven in Great Falls.
Thanks to the fundraising efforts of the Great Falls Realtor Association and the Young Professional Network, every food pantry in the district received a box, or two, of toiletries.
The groups also presented the Great Falls Public Schools Foundation with a check for $10,000.
Dave Crum, executive director of the GFPSF, said he was both grateful and astounded by the success of the organizations.
"Especially at the elementary level, this will give principals and teachers the things they need to make kids presentable before they go into class," Crum said. "It will help kids who don't have a parent there to get them ready."
The simple donation of toiletries also help lessen instances of bullying at school, Crum continued.
GFRA and YPN collected more than 3,000 toiletry donations from a drive that ran between July and August. Bins were set out business around town and barrels were placed at Super 1 Foods, Walgreens' 3rd St. location and McKenzie River Pizza.
Then, on Aug. 22, they hosted a Stand Up for Students fundraising event at McKenzie River Pizza. The public could donate money, buy raffle tickets for items and a 50/50 drawing and buy food and drinks with 20 percent of the proceeds going towards the cause.
Additional funds were raised through participation in the GFPSF Truck Raffle. They received 60 percent of the proceeds from raffle ticket sales.
"It's just amazing," Crum said. "I give them some guidance, but they do all of the work."
Principals and teachers from the district met at Paris Gibson Education Center on Sept. 8 to thank the organizations and collect toiletries to bring back to their schools.
Buy Photo
(Photo: Tribune Photo/Sarah Dettmer)

$105,000 donation brings soccer to Memorial Stadium
Sarah Dettmer , sdettmer@greatfallstribune.com
Work was already underway to complete upgrades at Memorial Stadium when the Great Falls Public School Foundation was approached by a donor willing to add to the improvements.
Thanks to a $105,000 donation from Willie and Melissa Pyette, part owners of Outback Power Company and Red Rock Power Inc., the new Memorial Stadium turf will include soccer lines.
"The Foundation is so excited about this," Linda Caricaburu, GFPSF board chair, said. "When we formed, this is exactly what we hoped would happen. We wanted to leverage the goodwill and generosity of the community. We've only been around for a few years and look what has happened."
The Pyettes' donation came with two requests.
Buy Photo
On July 17, 2017, the school board accepted a $105,000 donation from Willie (pictured) and Melissa Pyette, part owners of Outback Power Company and Red Rock Power Inc, to include soccer lines on the new turf at Memorial Stadium. (Photo: Tribune Photo/Sarah Dettmer)
The first is that a minimum of four soccer games be played on the new field per year. The second is for the donation to be recognized by signage on either side of the field. The signage will read, "Power Soccer Field at Memorial Stadium donated by Red Rock Power Inc." and "Power Soccer Field at Memorial Stadium donated by Outback Power Company."
After the donation was offered, GFPSF Executive Director Dave Crum assembled a committee to review the donation and make a recommendation to the board. Crum said the committee wanted to expand on the Pyettes' requests and said it hopes the district will use the field for more than four games.
At the July 17 regular meeting of the Great Falls Public Schools board, the trustees unanimously voted to accept the donation and its subsequent requests.
The district will not receive the entire sum at once. The Pyettes have contributed $15,000 and will pay out the rest of the donation in $10,000-a-year increments between January 2018 and January 2026. 
Willie is the head girls' soccer coach at C.M. Russell High School. 
"We believe in Great Falls," Willie said. "We're from Chinook, Melissa is my high school sweetheart, and we moved here in 1992. Since we're from Chinook, we think Great Falls is huge. Great Falls has always been good to us, and this is one way we can give back. We can't wait to get down there and get some games in."
The final rendering of the new turf at Memorial Stadium has been completed and includes the new soccer lines. The field will alternate light green and dark green turf with white football lines and silver soccer lines.
The design of the field has been simplified from earlier renderings due to unforeseen costs associated with the foundation beneath the field.
Each end zone will say "Great Falls" and "Memorial Stadium" will be written on each 25-yard line.
The track around the field will be cinder red instead of black.
C.M. Russell girls' soccer coach Willie Pyette celebrates the 2014 Class AA championship. Pyette and his wife are donating $105,000 to include soccer lines on the new turf at Memorial Stadium. (Photo: COURTESY PHOTO)
On Aug. 7, crews will begin laying the new artificial turf. Barring any complications, the turf will be finished by the first football game of the year. Superintendent Tammy Lacey said the track might not be finished by that time, but will be completed in September.
"I'm excited about this and ready to get this project checked off our list because we have a lot of other projects to get going," Lacey said.
The public can monitor these and other facilities projects by visiting a new link on the GFPS website under the "Community" tab by clicking "Facility Action," "Facility Projects and Timelines" and then "Facility Project Update With Pictures." Lacey said the link will be updated approximately every two weeks.
Community members will also start noticing signage placed outside construction sites that thank the community for committing tax dollars to improve the schools as well as a list the projects occurring on the site, the projects' timelines and who to contact with questions.
Buy Photo
(Photo: Tribune Photo/Sarah Dettmer)
Discovery Grants bring music to students' ears
Sarah Dettmer , sdettmer@greatfallstribune.com October 13, 2016
Five students were hammering away on their keyboards in North Middle School on Thursday afternoon, but not a single note was heard by those in the room.
Thanks to a $3,000 Discovery Grant awarded to Ellen Forslund, music director at North, by the Great Falls Public Schools Foundation, music students have 15 new electronic piano keyboards with headphones that allow students to play over each other without disruption.
In total, the foundation awarded $54,799 for preschool through secondary school projects.
"Teachers who traditionally pay for special events and projects out of pocket can now look outside the classroom for learning opportunities," said Linda Caricaburu, the foundation's chairwoman. We have some phenomenal teachers in the district. We're giving them the opportunity to expand how they teach, and they've really stepped up."
Teachers, administrators, faculty and staff can apply for Discovery Grants and may ask for a maximum of $3,000. Grant applications are evaluated by a community board made up of other teachers, community members and GFPSF board members.
This year, 26 of the 38 applicants received grants.
Students gathered in the North music room to demonstrate how they have benefited from their Discovery Grant. The new keyboards allow students to record their own music onto a USB device and download it to other school projects and presentations. The keyboards also show students the name of the notes they are playing and have prerecorded songs students can play along with.

North Middle School eighth-grader Aaron Kelly plays on one of 15 new piano keyboards purchased with $3,000 from a Great Falls Public Schools Foundation Discovery Grant on Wednesday afternoon. The upgraded keyboards allow students to connect to a laptop to record, mix and manipulate their compositions. (Photo: TRIBUNE PHOTO/JULIA MOSS)
"These keyboards really help us expand our music knowledge," said Aaron Kelly, an eighth-grade student at North. "Last year we were using floppy disks to save our music. I don't even know what a floppy disk is."
This year was also the first year the foundation awarded $9,000 to a single project. Three Great Falls High School teachers got together and applied for three collaborative grants to fund the opening of a coffee kiosk and mobile coffee cart at the school.
Caricaburu said the teachers reached out to local coffee shops for advice on what products they needed to buy and how to effectively run the business. Students will be able to learn about financial planning and management, how to run a business and how to be baristas, she said.
"This gives these students the skills for a job after graduation or a part-time job during college," said Dave Crum, GFPSF executive director.
The foundation has awarded a total of $306,962.12 since 2011. Nearly 48,350 students have been impacted by the funds.
The money for Discovery Grants is raised by the GFPSF through fundraising efforts. The amount the foundation has to give is directly based on how much the community gives to the cause.
Crum estimated the annual truck raffle alone brings in almost $50,000 for the foundation. Discovery Grants are also funded by the Cross-town Clash at Centene Stadium and Gold Star Awards – awards purchased by students and parents to give to teachers and staff the would like to honor.
"We're grateful to the community for buying raffle tickets and supporting the foundation," Caricaburu said. "This doesn't just affect a few students. It reaches thousands across the district."
(Photo: TRIBUNE PHOTO/JULIA MOSS)
Get your tickets for the School Foundation truck raffle
Money raised by event benefits local students
GREAT FALLS PUBLIC SCHOOLS FOUNDATION
 Last year's raffle helped send these five CMR HOSA members to a national competition: left, Erynn Murphy,  Megan Bahnmiller, Courtney Schroeder, Isabelle Pellot and Maddison Handa.
Adviser Christi Virts calls the annual Great Falls Schools Foundation Truck Raffle the "bread and butter" of funding raising for Health Occupations Students of America at C. M. Russell High School.
The money raised from the raffle meant that she could take 22 students to state competition in Missoula last spring and five state champions to Nashville for national competition last summer.
The Oakland family, which owns City Motors, donated a 2017 Toyota Tacoma truck valued at $25,000 for the raffle, which benefits not only the foundation, but any school organizations that sells the $10 tickets. This is the fourth year the Oaklands have donated a vehicle to the foundation for a raffle.
Those organizations, ranging from PTAs, to speech and debate teams, to music programs and athletic teams, keep $6 of each $10 ticket sold, with the other $4 going to the foundation. All money raised stays with local schools and students.
This year there is an added incentive to buy tickets, the North 40 Outfitters Store has also donated a $1,000 gift certificate as part of the raffle.
The winning truck and gift certificate raffle tickets will be drawn at halftime of the CMR-GFH Crosstown Football Game Oct. 28.
The CMR HOSA chapter will be selling the tickets at the "What Women Want Expo" Friday, Oct. 7, and the Great Falls High School Cross Country team will be there Saturday, Oct. 8.
The raffle started in late July and some 36 school organizations have joined with the foundation to sell tickets. Last year 11,490 tickets were sold, raising $114,500. This year's goal is $120,000 and more than 5,000 tickets have been sold, ahead of last year's pace.
Erynn Murphy, a CMR HOSA officer and a senior, hopes to go to Montana State University or Carroll College when she graduates and to study nursing. She was impressed by national competition where 10,000 students competed as medical professionals.
"These tickets aren't hard to sell," said Murphy. "People know they go to something good."
Students must raise their own expense for the conferences, $700 each for state, and $2,000-$2,500 for nationals, and are required to buy their own plane ticket. This school year state is in Helena and nationals in Orlando.
The $2,000 HOSA students raised by selling raffle tickets last year meant more students were able to go to the competitions, said Virts, a CMR health occupations teacher. "This is a learning and life experience. Some of these students have never been on a plane before."
If you would like to purchase a raffle ticket, but are unable to attend the Expo, contact Foundation Executive Director Dave Crum at 406-268-7340 or check the foundation Web site at: www.gfpsfoundation. org for a list of organizations selling tickets.
You may also "Like" the foundation on Facebook for updates on the drawing and other foundation activities. You do not need to be present to win.
CMR, GFH holding scholarship nights
Tribune Staff10:04 p.m. MDT September 29, 2016
Two college scholarship information nights will be held in October to give high school seniors and their parents what they need to apply online for 43 scholarships that are managed by the Great Falls Public Schools Foundation.
The first will be Tuesday, Oct. 4, at C.M. Russell High School in the Bill Williamson Auditorium. The second will be Tuesday, Oct. 11, at Great Falls High School's auditorium.
Both begin at 6:30 p.m.
School counselors, scholarship reviewers and foundation staff will be present to explain the do's and don'ts of applying online.
The foundation plans to post the scholarship applications on its website, www.gfpsfoundation.org, and will announce when it goes live.
The scholarships include those that can be renewed annually to multiple years. There are scholarships for the financially disadvantaged, the academically accomplished and for career and technical education. They range from $6,250 a year for two years to few hundred dollars.
There are 24 scholarships specific to Great Falls High School, and 19 for C.M. Russell High School students.
For more information contact the schools' counseling offices or the Great Falls Public Schools Foundation at 268-7340.
Buy Photo
(Photo: Tribune photo)
Great Falls Realtors Association helps homeless students
By: Margaret DeMarco - MTN News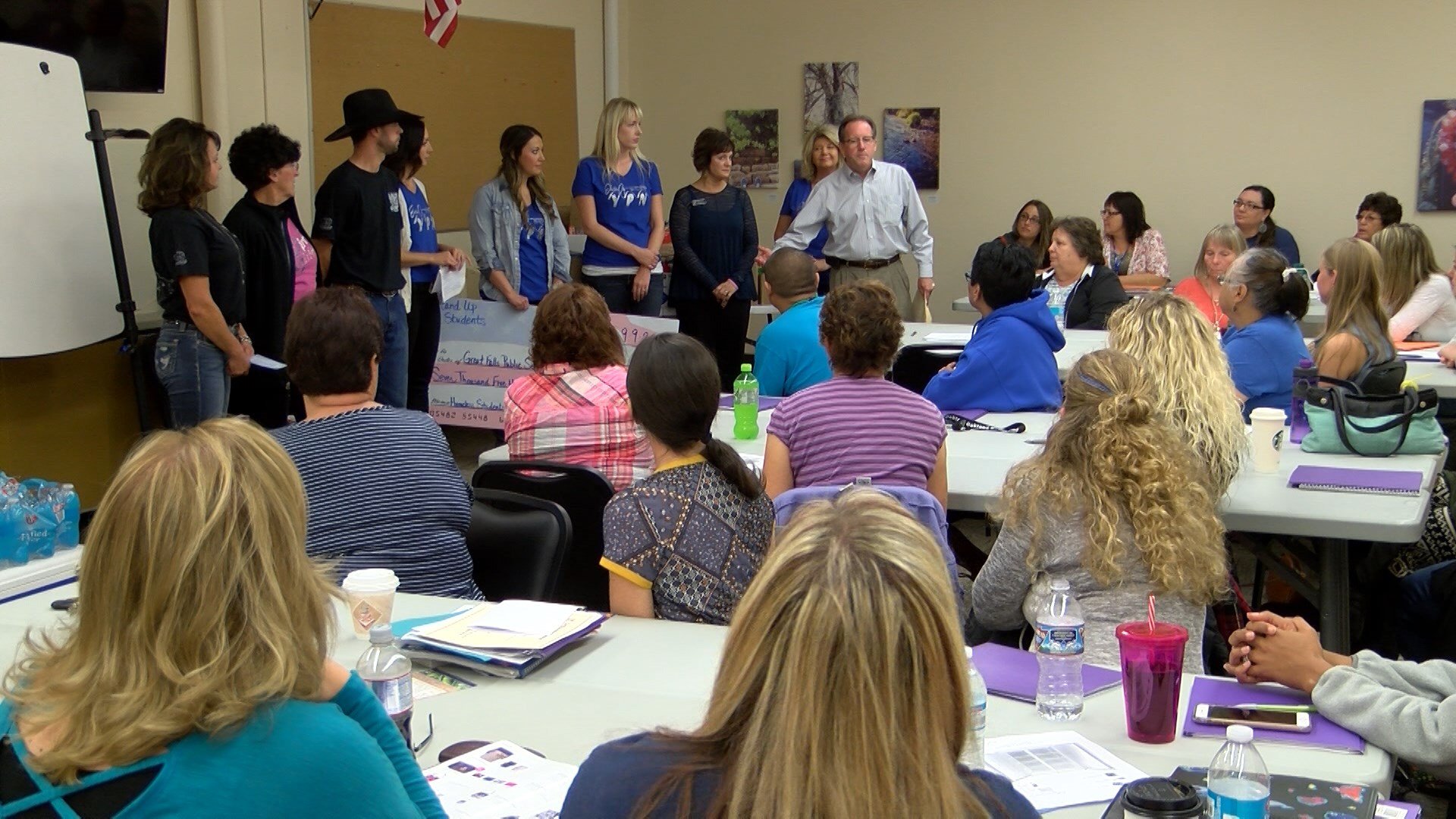 Great Falls Realtors Association helps homeless students.
My Best Day 5K honors Jake Arntson's team spirit
JO DEE BLACK jblack@greatfallstribune.com2:19 p.m. MDT September 4, 2016
Seven-year-old first-grader Jacob Roy "Jake" Arntson had a contagious giggle. He was gifted at making friends with people of all ages and made everyone feel comfortable.
When his sister Rylee or his parents helped Jake get ready for the day each morning, he would tell them that day was going to be his best day.
Jake's short life ended in a tragic car accident on Dec. 31, 2012, when he and his dad, John Arntson, who is originally from Great Falls, were traveling back to their home in Clackamas, Ore., after visiting family in the Electric City.
On Sunday, Sept. 11,  Jake's memory will be honored in Great Falls at the "My Best Day" 5K Fun Run and Kid's Dash, events that will raise money for annual scholarships that will be presented to three C.M. Russell High School seniors. Jake's dad John is a C.M. Russell High School alumni.
"A group of friends who grew up with John (Arntson) wanted to do something in Jake's memory and in his home town of Clackamas a 'My Best Day' 5K and Kids' Dash was started, so we are mirroring that," said Cyndy Grinde, an organizer of the event. Others are Jason Bliss, now of Billings, Stephanie Cummings, Rob and Stacie Skawinski, and Joanie Agamenoni, who is John Arntson's sister.
Two $500 scholarships and a $2,500 scholarship will be awarded in the spring to graduating athletes from C.M. Russell High School who will be nominated by coaches.
"The scholarships will be presented to athletes who display Jake's great attitude, ones who embrace an attitude that 'This is going to be my best day' and are great teammates," Grinde said.
Corporate sponsors have donated $10,000, enough to underwrite the costs of the race and provide seed money for the Jake Arntson Teammate of the Year Scholarship Fund. The scholarships will be awarded each year until 2024, the year Jake would have graduated from high school.
His parents, John and Tracy Arntson will be at the event, along with his sister Rylee. The Arntsons recently welcomed a baby girl named Ava to their family.
The Jake Arntson Teammate of the Year Scholarships will be awarded annually to three C.M. Russell High School seniors. (Photo: Courtesy photo)
There were about 200 people registered to participate as of Sept. 4 and registrations are available the night before and day of the event.
"This is a fun run, there will be a lot of walkers," Grinde said. "There are two Kids' Dashes, basically one that is about one length of a football field and another that is two lengths of a football field."
After the race the Great Falls band Allegedly Red will perform in the parking lot of The Front. Vocalist Sonya Brundege is a classmate of John Arntson's.
Donations to the Jake Arntson Teammate of the Year Scholarship Fund may also be made through the Great Falls Public Schools Foundation.
(Photo: Courtesy photo)
Summer brings happy reading
Sarah Dettmer11:53 a.m. MDT August 21, 2016
Super Summer Read 6 completed its fourth year of providing books to the children of the community.
For five weeks this summer, Carol Paul and her mobile library took to the streets. Over the course of the summer, 2,612 books were distributed to 1,496 students. The literary trailer made 38 stops around the community.
The Super Summer Read 6 library made about four stops a night, often to parks with hordes of children, their parents and their dogs waiting to trade in their books for new ones.
Mountain View third-grader Audrina excitedly ran up to the trailer and asked for "100 Ways to Annoy a Teacher."
"I like funny, nice, weird books," Audrina said.
Audrina settled for a Junie B. Jones chapter book and went to Tim Paul's mobile circulation desk to check it out.
Audrina was also given a Popsicle.
"This is a multiservice-type organization we have here," Tim told her.
Great Falls Public Schools employees and community members volunteer their time talking to kids and sorting out their literary interests.
Buy Photo
(Photo: TRIBUNE PHOTO/SARAH DETTMER)
For the second year in a row, "Diary of a Wimpy Kid" topped the charts as the most requested series. The "Bad Kitty" series was a close second. GFPS librarians give Paul a top 10 list at the end of every school year so she knows what to order for the program.
"People donate books every night," Paul said. "Once, a sixth-grader came with a boxes of books to donate. He asked for a picture with them because, he told us, 'This is my childhood!'"
Super Summer Read 6 is supported by GFPS and the Great Falls Public Schools Foundation. In the past, it has received a Discovery grant and a United Way grant to buy books and support the program. Last year, Paul said it received a $10,000 anonymous donation.
"We use to give gas coupons to our trailer drivers," Paul said. "But they started saying no."
Super Summer Read 6 made 38 stops this summer, all book ended by the cheerful voice of Paul calling out, "Happy reading!" to the community.
Buy Photo
(Photo: TRIBUNE PHOTO/SARAH DETTMER)
GFPS Foundation surpasses own goals
Sarah Dettmer7:59 p.m. MDT June 27, 2016
The Great Falls Public Schools Foundation completed its fifth annual report this evening, highlighting the completion of their five-year plan.
The foundation met all of their goals, namely meeting and surpassing their three to five year fundraising goal in one year.
Among other achievements, the foundation distributed almost $15,000 to school food pantries, donated $40,000 to windows at Great Falls High School and raised almost $115,000 during their Toyota Rav4 raffle.
$53,102 from the raffle went towards the schools, with the remainder going to the foundation.
The foundation also worked heavily on five year student centered programming.
Through their Dream Big Grant, $100,000 was awarded to the Prairie Expedition Project. The project allows students to experience an integrated curriculum in and out of the classroom.
The Great Falls Public Schools Foundation manages 61 scholarships and awarded more than $200,000 in scholarships to students.
"Nothing is more gratifying than receiving a personalized thank you from a student whose life was really changed, sometimes by just a few dollars," Linda Caricaburu, Great Falls Public Schools Foundation chair, said.
Due to the resounding success of their five-year plan, the foundation plans to set even higher goals for themselves for the coming years.
ConocoPhillips CEO to give keynote address in Great Falls
 David Murray, dmurray@greatfallstribune.com10:08 p.m. MDT May 4, 2016
It is likely that most Montanan's are unaware that the chief executive officer of one of the world's largest oil companies is a Great Falls High School graduate.
(Photo: Courtesy photo)